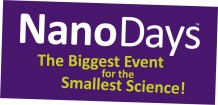 "Come see what's so big about the super small!". Nanodays starts March 26th (check below for a list of participants and what days they will be hosting events), and you can learn all about the new uses of nano materials, including nano silver (colloidal silver) and nano gold (colloidal gold).
See if your local museum or university is a Nanodays participant.
While the exhibits won't be talking about nano silver's use as a colloidal supplement, they have interactive elements that you can use to teach kids about nano technology. At The Maryland Science Center, one exhibit (Stained Glass Suncatchers) explains how the color of nano silver and nano gold changes with particle size. Learn why colloidal silver isn't very silver-colored (it's far more gray), and maybe learn to identify competitors inferior (read: large particle sized) products.
Nano silver is increasingly used in everyday products-whether it's making sure your food stays fresh, or your gym clothes don't smell. While some people fear this new technology, others recognize that it's been around for hundreds of years in the form of colloidal silver. A silver coin in the bottom of your milk used to be a way to keep it fresh before pasteurization, and as technology has advanced so has the quality of colloidal silver, from small silver particles to nano silver.
Will you be participating in Nanodays? Share your Nanodays stories in the comments!